On Sunday, September 24, the parishioners of Trinity Simcoe gathered together with Bishop Todd to mark their 175th anniversary.
The celebrations commenced with a Festal Eucharist in the church, which included two uplifting anthems sung by the choir.
In his sermon Bishop Todd gave thanks for the many years of mission and ministry that has happened in Simcoe and continues today. He also spoke of the church as a sacred space that was created for us to encounter God's presence. At the end of the service the Sunday School children, wearing party hats, informed the congregation that they had had a party to celebrate the Church's birthday. Bishop Todd told them that he was wearing his own party hat too (His mitre!)
Following the service, a salubrious three course catered luncheon was enjoyed in the Canon Hicks Memorial Hall. During lunch official greetings were read from Leslyn Lewis MP, Amy Martin, Mayor of Norfolk County and The Bishop of Rupert's Land, Geoffrey Woodcroft who grew up at Trinity Simcoe. Lunch guests were also treated to specially blended red and white wine that was kindly donated by Richard and Kathryn Duwyn.
After lunch the celebrations concluded on the church lawn with a commemorative tree planting ceremony, where Bishop Todd blessed and helped plant a flowering Dogwood Tree. The Dogwood flower is the emblem of Norfolk County. Reflecting on the event, the rector, Rev. Paul Sherwood said: "This was such a joyous and uplifting day in the life of our parish and I was honoured to be part of it. I am so thankful for everyone who helped make it so special."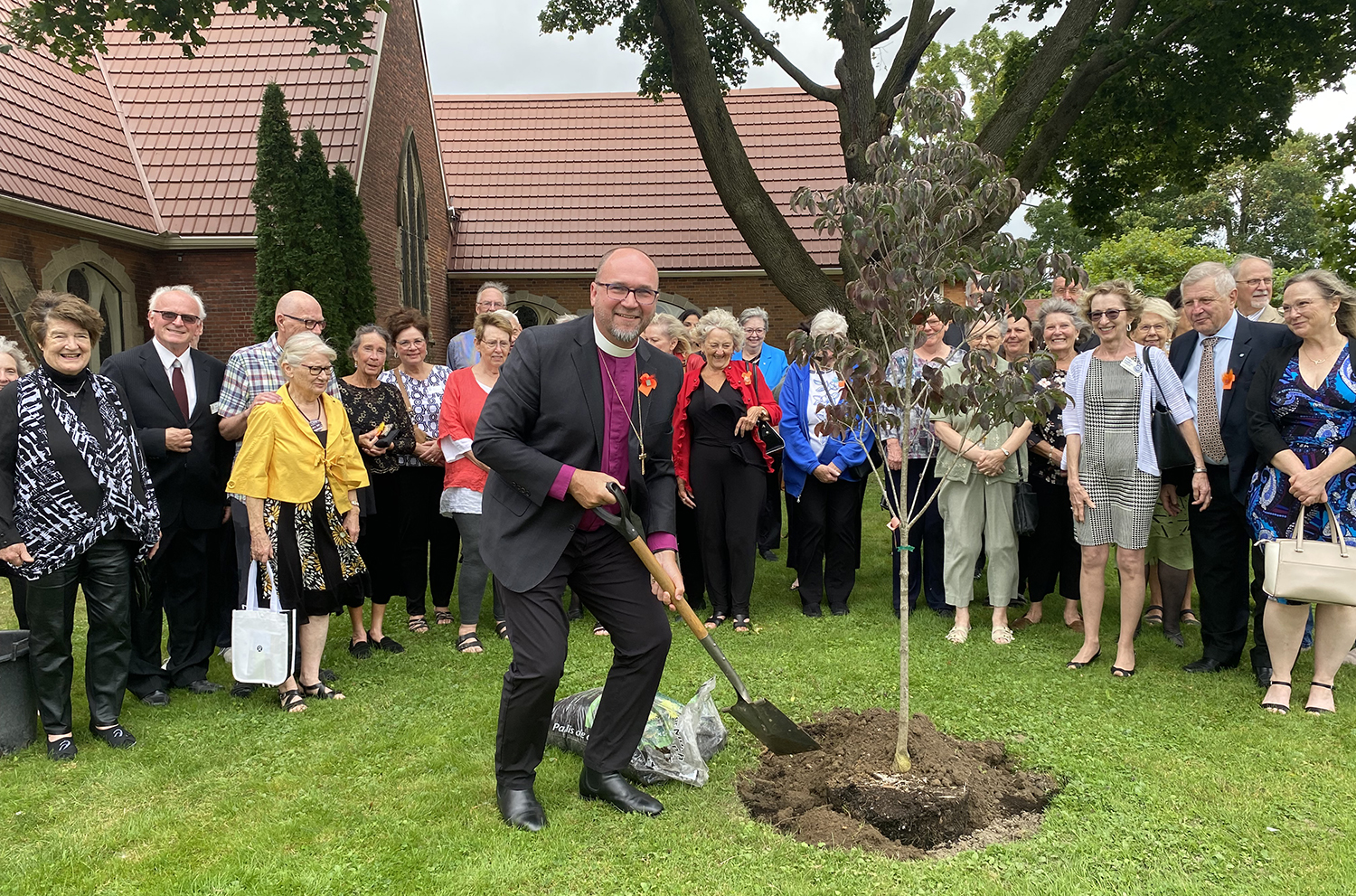 Bishop Todd blessed and helped plant a flowering Dogwood Tree in front of Trinity Simcoe