By Sue Lafreniere
What first drew me to the monastic tradition was my dear friend and faith mentor for the past 25 years, Margaret Attwell.
She was the coordinator of the Pastoral Care Program at my previous church, St. John the Evangelist in Smiths Falls and passed the responsibilities onto me where I served for 10 years. She passed away January 2022, in her 93rd year.
When I attended her funeral, I wanted to make a donation in her name. The funeral home assistant asked me if I would like to donate to the Sisterhood of St. John the Divine or her home church. Déjà vu: I was flooded with my memories of her asking me to consider being an associate of the Sisterhood many years before; I also recalled a nun at a Cursillo Weekend, where I volunteered in 2002, who had asked me if I would like to become a sister; and more recently our retired minister, The Ven. Neil Carver, at my present church of Church of the Holy Saviour, Waterloo, asked me if I knew about the Sisterhood of St. John Divine in Toronto.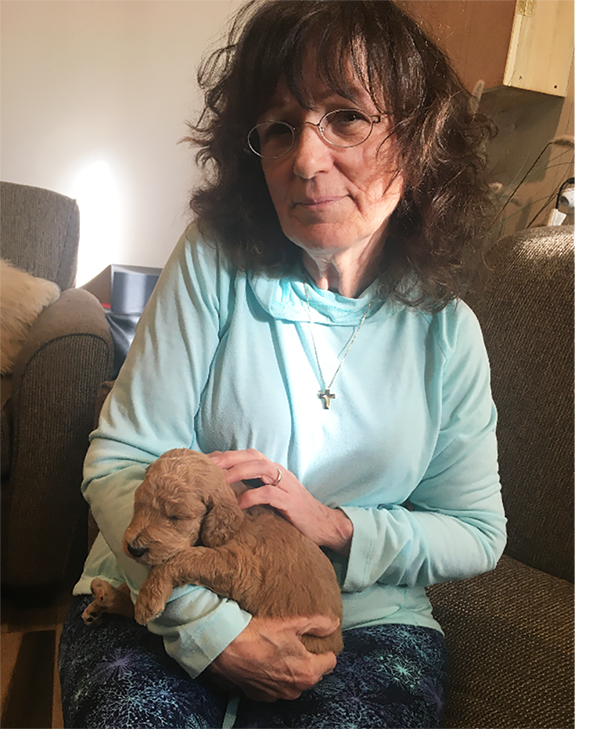 I wanted to honour my dear friend's memory, so I explored being an associate with the Sisterhood. On February 24, 2022, I started my year of discernment.
My knowledge about being an associate was limited… just what I had read online and information that was sent to me. What I do know is that these three people saw something in me, through their faith in God, and encouraged me to learn more about SSJD.
For me, I am seeking, in associating my life with a religious community, to deepen my faith in God, continue to learn the teachings of Jesus, and share my gifts through the Holy Spirit with others.
Sue Lafreniere with Copper
During COVID I became much more aware of the great need to pray and love those around us more deeply. Many things helped me cope during COVID, but none more than those based in my faith in God.
The Ven. Neil Carver introduced a small group from our parish into a Virtual Vespers group that I believed helped us all immensely. During these Sunday afternoon services I was introduced to a short meditation time, which was extremely beneficial to me.
Later, Chuck Erion decided to start a parish meditation group at our church. That was over a year ago and it has been an amazing transformation for me.
More recently I've been participating in a Zoom group led by Matthew Kieswetter for people interested in monasticism. Through all these sessions I have read many great books that have inspired me to journal and personally meditate every morning and evening.
Last Fall I attended a 'Quiet Day of Prayer' for Advent at SSJD that was presented by Bishop Riscylla Shaw. This experience provided me with much peace. Through my contact with SSJD, I am continually reading and searching out new books to enlighten my faith in God and strengthen my knowledge in the Bible.
I am grateful for the guidance and love I have received attending Vespers and the ongoing Meditation course as well as the monastic support from The Sisterhood of St. John the Divine.
Sue Lafreniere is a member of Holy Saviour Anglican Church in Waterloo, and blessed to be an Associate with the Sisterhood of St. John the Divine.