GROWING BEYOND THE DOORS
By Rev. Grayhame Bowcott
Of the many tools that Anglicans have at their disposal, to share the gift of faith with others and inspire new relationships with Jesus, perhaps the most underutilized is the simplicity of Christian witness.
Anglicans employ many reasons for not talking about our faith with others in public: it's impolite, some believe faith to be a private affair, we don't feel equipped to do so – "it's just not something that Anglicans do". However, these excuses don't negate the fact that Christian witness is one of the most powerful tools to share the gift of faith with others.
The truth is, sometimes it takes the example of someone outside of our tradition to teach us how impactful Christian witness can be.
On September 11, as part of our parish celebrations of the Season of Creation, St. George's, The Blue Mountains hosted Jeffrey 'Red' George, an indigenous artist, musician and storyteller, to come and visit our community and speak to the themes of spirituality, creation care and indigenous culture as depicted in his artwork.
We advertised Red's visit with us 'beyond the doors of the church' by making the event open to members of the wider community. As an added incentive, we threw in a potluck lunch immediately after our regularly scheduled Sunday services in hopes of drawing in a few additional visitors for worship. I am thankful to our church wardens, Michelle Hughes and Elaine Beard, and their planning committee for helping to extend such hospitality to guests and members alike.
Red set up his artwork across a series of easels in our outdoor rose garden courtyard. Each painting had its own unique presentation, story and symbolism. In an incredibly relaxed and comfortable way, Red talked out the inspiration of his work: his indigenous culture and upbringing, the influences of his biological and adoptive grandparents, a sense of connectedness to creation and the natural world, and the formative impact of his Christian faith.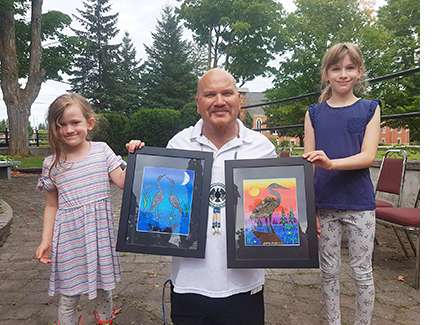 To hear Red, a guest to our church community, teaching and expressing his appreciation for his relationship with Jesus and with the Christian Church was deeply inspiring to all gathered on that day, whether they were members of our congregation or guests from the wider neighbourhood.
Red graciously answered questions about what his own sense of spirituality meant to him, how it was represented in his artwork and how it has become part of his identity as an artist, as a teacher and as someone seeking to be true to his indigenous culture and Christian faith.
In many ways, Red's artwork serves as tools for telling the story of Jesus (you might even go so far as to say - evangelism). His art has been previously featured in the Huron Church News (see June's article: Grandson and Grandmother walking the good road). While his vivid paintings relay meaning and symbolism to their viewers, what I found so powerful about Red was his openness in talking about his faith and its inspiration in his life. What if more Anglicans could do the same?
While not all of us can be gifted painters, musicians and storytellers, we all have our own unique perspectives in faith. We have our own unique voices and experiences that can be powerful tools of evangelism, if only we are willing to share our own personal witness with others.
When Red talks about his Christian faith, he tells of how it has been passed down to him by his grandmothers – a gift shared from one generation to the next. Anglicans often make excuses for not doing this.
"We'll let our children and grandchildren make their own decisions about faith and the Church" is a common refrain that I have heard over the years. My response to this 'excuse' is often to say: "but isn't your faith in Jesus a gift worth sharing with those you love?"
My intention in expressing my appreciation for Jeffrey George's gift of Christian witness is not to shame Anglicans who are uncomfortable in doing the same, but rather to encourage all of us to consider how powerful our own faith testimony might be. Whether it is among our family members, with friends or even with those who are less known to us, never underestimate the power of Christian witness.
How might God be calling you to share your faith story with others?
Rev. Dr. Grayhame Bowcott is passionate about fostering congregational relationships and sharing our Anglican vocation with others. He serves as rector of St. George's, The Parish of The Blue Mountains and as Program Director for the Licentiate in Theology program at Huron University.
grayhamebowcott@diohuron.org
Illustration: Jeffrey Red George