'I felt joined by the radiance of hearts, by the desire for good, by the joy of shared service': Fr. Gilles' first Eucharist at Christ with Fr. Brendon Bedford (left) cuting the cake at the coffee hour.
"I have come among you as one who serves" (Luke 22:27)
By Rev. Gilles Haché
By way of prologue, I would like to say that we all have a calling to respond to.
Only it is not a question of determining it oneself. Christ himself is the investigator and it is he alone who calls to serve by his example. Each, in his own way which is different with his own vocation to walk on the paths towards our personal realization in God.
"What are the pillars of my vocational life?"
Well, I can share that I have with certainty seven pillars that nourish my vocational life and my ministry every day. My family, the call received, the prayer, the opening of the heart, the Church, my community and not least but the love of my life.
It is God who called me to this life, and it is a great joy to be able to say to myself, after 33 years of journey: I am well where God wanted me to come and look for him, where he calls today. A life that is not always easy, but for me it would not be more beautiful elsewhere than in this new ministry as a priest in this church. This church which opened the doors to me, supported, encouraged, accompanied and which by these members under the movement of the Holy Spirit, to confirm this call of God in my life.
In my life, prayer is an indispensable tool to always keep my heart at the rhythm of God's heart. It is God who calls me, to serve in following Christ and to respond to the mission received at baptism. There is no doubt that listening to the Word of God is the path that transforms my prayer. My prayer therefore becomes the path that transforms everything, that illuminates everything, that makes me act, love and that gives weight to my relationship with Christ. It is also the voice that opens my heart to be able to love people and serve with them as Christ calls to serve.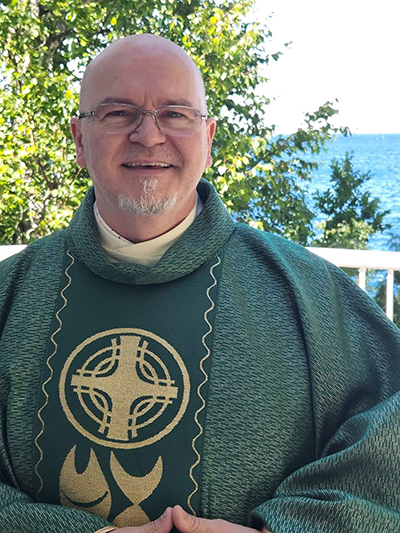 Today, I can share with you that I have the conviction of knowing that I strive every day through my many occupations and function, to listen to the source of the voice of God that wells up in me through prayer.
Henri-Louis Bergson was a French philosopher who said that "time passes and only the memory of the moments lived remains".
This memory of the past, this mirror of time lived, is for me today to respond to Christ's call and choose to follow him, striving each day to discern what he expects of me and to act in complete freedom to fully live this mission which was entrusted to me as a priest and to let his Spirit act fully.
"Now the Lord here is the Spirit; and where the Spirit of the Lord is present, there is freedom." (2 Corinthians 3:17)
As Friedrich Wilhelm Nietzsche said, "Lead your life so that you want it to repeat itself forever".
Today, I realize that what I am and what I carry within me, comes from afar and is called to be transformed and transmitted eternally by the action of the Spirit of God who passes through my life and my commitments to touch and serve the hearts of those who seek God around me and at the same time as me in the Church.
This summer I had the good fortune to minister in several areas of Deanery of Saugeen's, specifically St. Paul Church, Southampton, St. John's Church, Port Elgin, St. Edmund, Tobermory, St. Margaret's Chapel Cape Chin, St. George's The Parish of the Blue Mountains, St. James Fairmount, Trinity Durham and with my Church family at Christ Church, Meaford.
I had the chance to meet humble, helpful and dedicated people for the proclamation of the Gospel. Through all these doors of these beautiful communities that I was invited to enter, I tasted the joy of the Word of God and I understood the meaning of service as one who serves.
These community leaders have all in their own way been faithful in the service of others by the sole motive of the Love of God and his Church.
I will keep this experience as a gift to grow further in this mission entrusted to me as a priest to learn to serve out of love.
The voice of Christ who invites me to serve like him stands out and it resounded among all the people I met during this passage and this pastoral experience this summer.
I can truly say that I felt joined by the radiance of hearts, by the desire for good, by the joy of shared service and the love that emanates from him, the Master of Service, Christ Jesus.
I pray with all of you that together we can continue to become true servants of the Gospel with a heart filled with gratuity to serve like him.
May we continue to develop the desire to collaborate together and with Christ and to open our minds to the action of God to truly serve as who came to serve.
I pray for the grace that my pastoral commitment be the desire for an attitude of service.
Rev. Gilles Haché is the assistant priest at Christ Church, Meaford.