By Laurel Pattenden
Twenty years after George Orwell's book Nineteen Eighty-Four, I bought my first Smiley Face patch.
This article does not have anything Orwellian in it. Just thought it was a catchy opening sentence, but it does have something to do with my first Smiley Face symbol. Sort of.
Smiley patches and symbols were just emerging into the marketing world. It was 1969 when I proudly sewed that patch on my green, canvas backpack (with real leather straps) that I purchased at Novack's in London. So far back when the store was a true Army/Navy Surplus store. Way back! According to emojipedia.org the Smiley Face symbol became an emoji in 2012.
Emoji's have become such a big way of communicating today. (For those unfamiliar with the term "emoji", they are tiny, little symbols that convey an emotion. Frequently used for online communication such as texting and Facebook. One can look up the meaning of emojis at emojipedia.org)
I was late to get onto Facebook and at first mainly to observe what all the excitement was about. Then my season of signing up for all those Facebook groups that circulate quotes started. Yes, I was one of those who spent time sending out other people's insights and quotes to fill up someone else's feed. Then waiting to see if someone "liked" or approved of my selection of someone else's words. Yes, that is what I did. However, what was more exciting was not to get a "liked" but the coveted "red heart". Then you knew you had picked a winner of a quote!
Since then, simple "red heart" emoji's have blossomed into a vast assortment to chose from: hearts with Cupid's arrow, smiley face's with hearts for eyes, hearts in whatever colour you like plus cute little woodland animals hugging hearts. Ad infinitum.
The emoji "red hearts" are very young when compared to stories about hearts as old as the 5-6th century from the Indus Valley Civilization. A story or connection to the heart shaped fruit of the silphium plant. The red heart, as we know it, was used in heraldry since the year 1213. The heart representing love became very popular in the European 15th century. At that time red hearts were found on playing cards as they still are today.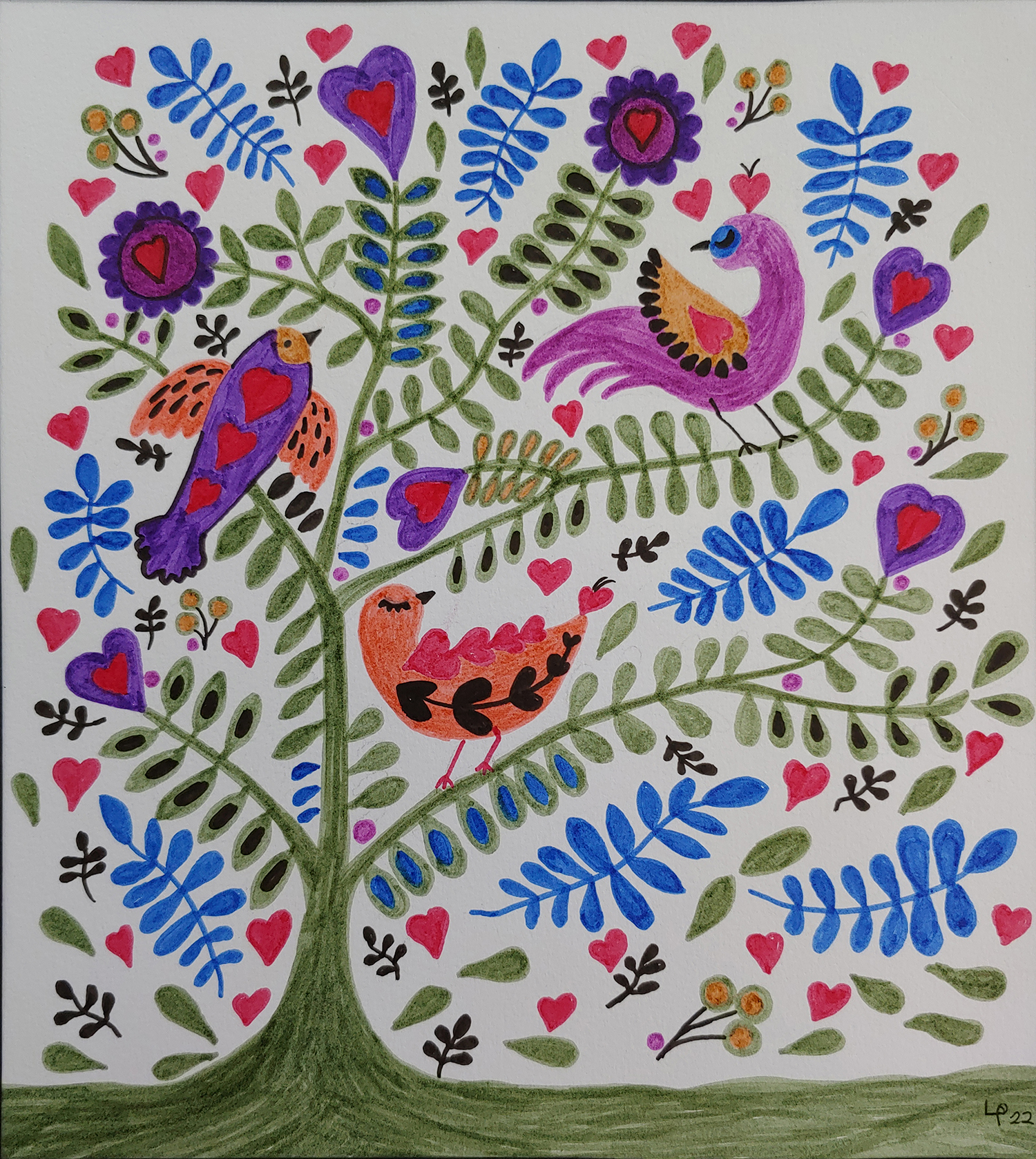 In the first half of the Laurel era (my life), hearts could be spotted but not as often as today. Valentine's Day in elementary school was a day for hearts as we handed out our cutout cards. Later, hearts were spotted in someone's doodles, carved in wooden school desks and of course the infamous spot on the washroom toilet stall wall. When my children were young we could see a heart stitched on each Care bear's tummy.
Today we see the red heart shape everywhere. Those little red heart emojis have infiltrated our communication and connection to others. When I am on Facebook now, I have to deliberate between a "thumbs up" or a "red heart". Usually opting for the red heart because I feel cruel if I don't. I am aware this could lead to a future therapy session!
Heart symbols surround us. (Does my backpack need a red heart emoji beside my smiley face?) We will see even more hearts as we enter the month of February, as Valentine's Day lays claim to red hearts since before the English poet Chaucer puts it in writing.
I wonder how many times the red heart emoji will be clicked this February? More than other months? Who knows? It takes such little effort to click away sending multiple hearts at a time, as if we have more than one heart to give. It makes me wonder, as our fingers rapidly send out red heart emojis, if there is actually any more love to feel in this world.
Laurel is retired and likes to spend her time in her art studio.
(Illustration: Laurel Pattenden, LOVE BIRDS, Ink, 2022)