'Everyone then who hears these words of mine and acts on them will be like a wise man who built his house on rock. The rain fell, the floods came, and the winds blew and beat on that house, but it did not fall, because it had been founded on rock. And everyone who hears these words of mine and does not act on them will be like a foolish man who built his house on sand. The rain fell, and the floods came, and the winds blew and beat against that house, and it fell—and great was its fall!' Matthew 7.24-27
GROWING BEYOND THE DOORS
By Rev. Grayhame Bowcott
In today's context of ministry, it is not uncommon for the Diocese to be announcing the closure and deconsecration of church buildings.
Many congregations that have served faithfully for generations are finding themselves straining under the rising costs of ministry and the challenges of maintaining historic buildings that have been landmarks of faithfulness in cities, towns and villages across Canada.
In my research into past periods of numeric growth in the Diocese of Huron I have been studying the histories of mission plants in the early 1900s. This was a time when congregations that were healthy and sustainable felt that part of their outreach to the wider Church was to seek out communities that were underserviced by ministry and to attempt to plant a new church there.
In the early 1900s, the congregation that I currently serve, St. George's in Clarksburg, worked to support four 'District' churches: St James', Fairmount; St Augustine's, Heathcote; St Alban's, Duncan; and St Stephen's, Banks. The idea with this model of ministry was for a stronger congregation to deliberately seek out and enable smaller, less resourced ones. The premise of this arrangement was that healthy groupings of congregations were far more resilient than independent outposts for ministry (i.e. the 'we just look out for ourselves' approach to ministry).
Of the four 'District' churches, there is one in particular that has a very important story to tell. St. Alban's church in Duncan, Ontario began as a mission plant that gathered community members every alternate Thursday evening in an old log meeting house led by Rev. T. D. Brown of Clarksburg. Today, we would call this model of ministry a 'House church'. Notes from an old Souvenir History brochure comment that the St. Alban's was a place where community members helped each other as newcomers were becoming established in the area.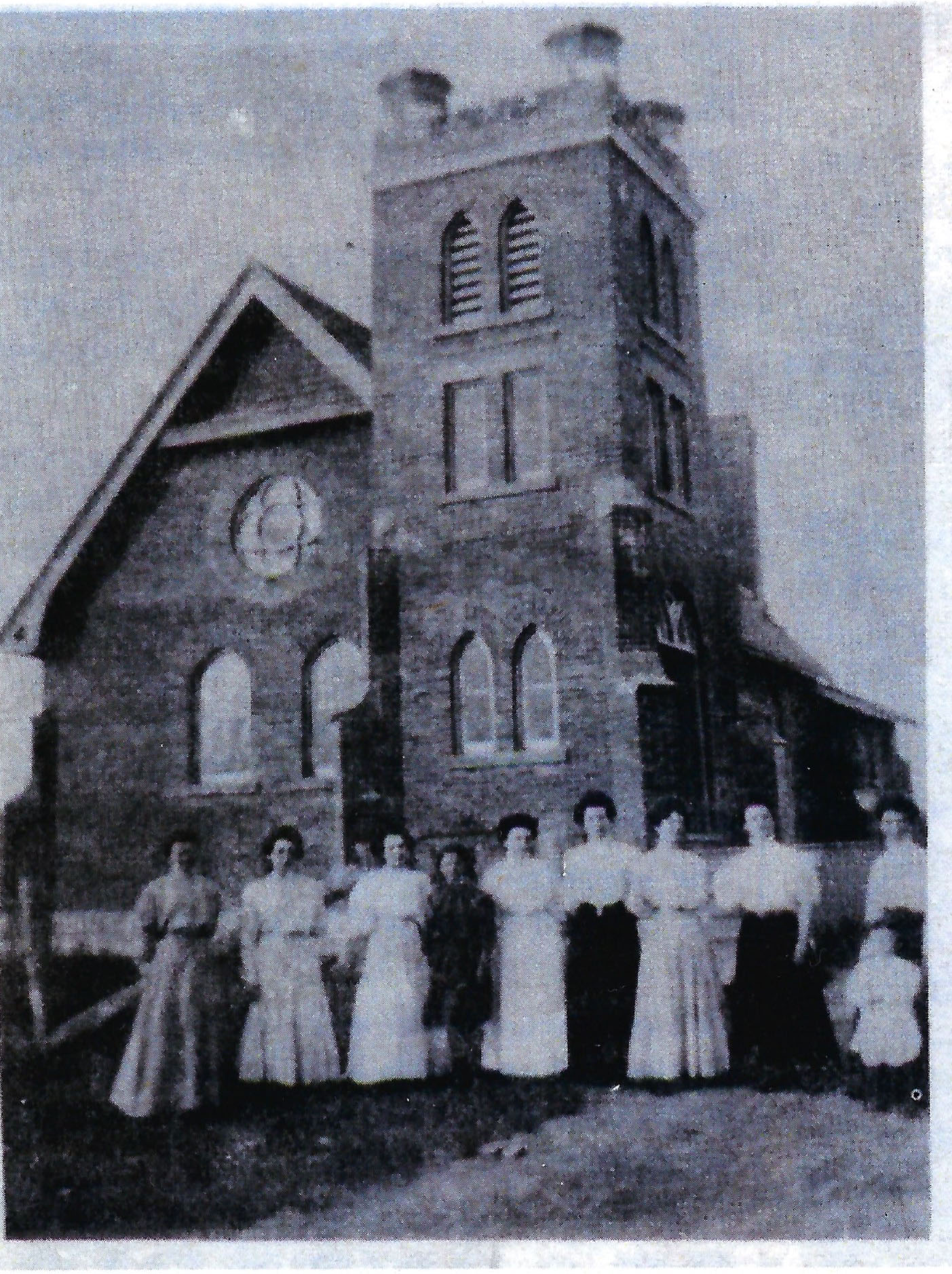 St. Alban's story continues to document that the members of this new congregation aspired to establish a symbol of permanence in their community by erecting a large church building modelled after St. George's Church in Clarksburg – in fact, an exact replica! It might be fair to conclude that this was a 'Build it and they will come' approach to ministry. Despite the fact that the small mission didn't have the money to afford such a large project, they trusted that others would be drawn to this 'lasting monument' built 'to the devotion of the Church people of the district.'
Construction of the new red brick church, complete with bell tower and a full basement, was concluded in February 1905. The cost of such a large undertaking fully immersed the congregation in debt. Out of necessity, the central focus of the community was to become completely fixated on fundraising efforts.
St. Alban's was built on the corner of Lot 9, directly across the township line from the Duncan Union Church. The building was constructed from the same plans as St. George's in Clarksburg. Built of red brick, it had stained glass windows, a tall bell tower, and a full basement (with a furnace) - an exceptional structure for a rural church.
Instead of being able to dedicate their time to investing in the new faith relationships of their fledgling congregation, St. Alban's was drawn into divisive discussion regarding the survival of their building. It was hoped that they might find their salvation in hosting numerous fowl suppers and social fundraisers, but despite their best efforts they were never able to raise the necessary funds to pay off their mortgage.
In 1925, only twenty years after the building had been erected, St. Alban's church was torn down and the raw materials were sold in order to settle the congregation's debts. The arguing among individuals in their community was so great that instead of returning to a house church model they decided to disband the congregation completely.
Where it was hoped that a faithfulness to raising up a physical testament of the Anglican tradition in the form of a majestic church building might draw others to their cause, after the loss of their building some members are noted in sharing that they missed the sense of support and Christian 'brotherliness' that had been present when they had first met in the modest log cottage in the years before they aspired to something more 'lasting'. Ironically, St. Alban's might hold the record for the shortest lived church in our Diocese – notable, during a period of rapid church construction throughout Huron.
The wisdom that St. Alban's, Duncan has to share with us is to never forget that the foundation upon which we build our congregations must always be our relationships with each other, with the community in which we are called to serve and our relationship to God through Jesus Christ. If we ever misplace this single-most priority in our ministry we run the risk of building up our hopes on sand alone. While it is true that our stewardship of church buildings is an important aspect of our Anglican identity, what is perhaps more true is that fact that our buildings should always serve the needs of the gathered community, not the other way around.
In a time when churches were popping up all over the landscape of this Diocese of Huron, St. Alban's blinked out of existence in less than twenty years. Why? Because they invested in bricks and mortar instead of investing in fostering new relationships in Christ. As we enter into the season of Vestries, my prayer for each of our congregations is that we have the wisdom to invest wisely – to invest in the places where new and renewed faithful relationships are most likely to flourish.
Rev. Dr. Grayhame Bowcott is passionate about fostering congregational relationships and sharing our Anglican vocation with others. He serves as rector of St. George's, The Parish of The Blue Mountains and as Program Director for the Licentiate in Theology program at Huron University.
grayhamebowcott@diohuron.org